In China, the male grooming and personal care products market is booming. In the era of 'xiao xian rou' (小鲜肉) which directly translates to 'little fresh meat' or young beautiful males, it is no wonder many Chinese men are now prioritising their appearance than ever before. In fact, China's male cosmetic market is currently worth $22Billion USD and is experiencing year by year growth of 13%, well ahead of the 5.8% experienced globally for male personal care products.
For Chinese men, facial skin care products accounted for more than half their spending (53 per cent), followed by shampoo and hair care products (20 percent), perfume and make-up (14 percent), and body care (11 percent according to E-Commerce giant JD.com
| The Chinese men personal care market is booming. In fact, it's expected to grow 13% each year from 2018 onwards according to an Allied Market Research report. 
The majority of this market is driven by men born in the 1990s as like the west they are grown up in the social media era and tend to care more about appearances than other generations. Acne treatment, sunscreen and oil control products are the top three focuses for the average Chinese male user.
Different Interpretations of Beauty
While it's not uncommon or even normal for western men to be spotted with a face full of beard, it is not as fashionable in China. Beards are often labeled as scruffy, 'dirty' or unsuccessful. Chinese men and women mostly prefer a clean shaven look. Much of this is attributed to the popularity of the 'Korean wave' of boy bands and male leading actors in popular dramas. These young, clean-shaven, pale and often looking males are termed 'Xiao Xian Rou'.
Rise of the Xiao Xian Rou
Much of the drive of the Chinese male grooming and personal care market can be attributed to the rise of the xiao xian rou. These young, beautiful celebrities are often adored not only by young girls but also older women or 'aunts', though more of a protective nature than desirous.
According to market research firm EntGroup, the commercial value of popular xiao xian rous are enormous, and often comparable to some of China's biggest stars like Jackie Chan. In fact, Forbes China Celebrity 100 have these xiao xian rous list three xiao xian rous in their top ten.
Opportunities
The Chinese cosmetics and personal care market like many other sectors, is now on track to become the globe's largest make-up market within the next few years, experts predict. Males currently account for 53% of the 1.4 billion population in China. However, the share of personal care products is relatively small creating room for huge potential growth in this sector.
Australia itself pose a natural yet significant advantage due to China's perception of Australia as a clean and green healthy nation. Products made in Australia are perceived as higher quality.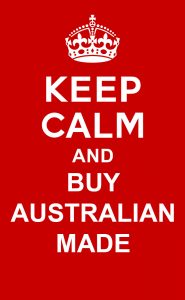 Chinese consumers are told to KEEP CALM AND BUY AUSTRALIAN MADE
Quick Tips for Entering the Male Personal Care Product market
Social Proof
Chinese people do not buy new or unknown brands. So before you set foot on this potential 1.4 billion people market, make sure you establish yourself as a reputable brand first.
Social Media and KOL
Yet another form of social proof is Key Opinion Leader or KOL marketing. KOLs are established experts in their field and have many followers.
E-commerce
For large established brands with a large budget, Tmall and JD.com provides good opportunities for exposure to the Chinese market.
For startups and smaller companies, you can try small outlets like WeChat store, Little Red Book or piggyback marketing on more reputable shops like AusPost.