It's no secret that QR or Quick Response codes are ingrained in the daily lives of Chinese people. While QR code activity lies dormant in the west, China and many Asian countries have thrived upon it and have many applications from swapping contact details to paying for food at a restaurant. Indeed, it is hard to imagine the lives of Chinese people without QR codes nowadays.
Just How Big are QR Codes in China
QR codes are huge in China and is fast becoming a necessity in a cashless society. Below are some common and essential uses of QR codes in China:
Give and receive money from friends and relatives
In China red envelopes are monetary gifts to a close friend or relative and is widely used as a way to wish good luck or congratulations and for married couples to give to unmarried ones during festive seasons.
Identify objects and pets
Pets have collar containing owner's address and contact details. QR codes are a big part of why the bike sharing phenomenal really took off in China. They are also responsible for the vast number of oBikes currently littering the streets of Melbourne.
Identify senior citizens
Many senior citizens in China have QR codes on their ID to show their address and family contact details.
Paperless advertising
QR codes can be placed on a job board or bulletin board and be used to redirect to a website or text containing job requirements.
Paying and receiving money
This is perhaps the most widely used application of QR codes is to pay for daily necessities such as shopping for groceries or eating at a restaurant.
Which Industries are benefiting from all this?
The Tourism and Retail industry would benefit most from this. It's simple really, QR code serves to connect the offline world to the online world and what better way to do that than by placing them where tourists visit and shop and redirecting them to your online store or Chinese company website ? Chinese tourists are set to overtake New Zealand as the number one source of tourists in Australia .
Chinese tourists also love to shop and spend up to $8000 per holiday. However, QR codes can be used by many industries to attract new and repeating Chinese customers.
Bottom Line: If you want more Chinese customers you need to make use of the QR code.
If you want to learn more about QR codes and what they can do for your business please read on:
What are QR codes
QR code has a long history dating back in 90s in the automotives industry for tracking vehicles and parts. Because of QR code's ability to hold large amount of data, it has seen widespread adoption across other industries.
Differences between a QR code and Barcode
QR code holds much much more data (can be several hundred times more) so it can do more than just track inventory. What QR codes are used for nowadays are more limited to by creativity than by space. Below are some common uses of QR codes:
Redirect to a website URL
This QR code redirects you to a website, landing page or your social media profile. This is perhaps the most used because it lets you connect the offline world to the online world.
Letting guests access your wifi
You can easily let guests share your wifi network without having to input lengthy passwords.
Save contact details via VCard
You can store your vcard details on a QR code so your client can store your details when scanned.
Used as coupon redemption
QR codes can be used to redirect a customer to a coupons page or the other way around where the customer completes an online form to generate a unique QR code. They then take this unique QR code into the store to be scanned for a coupon redemption. The QR code can be chosen to be a one time or indefinite use. This makes traditional flyers redundant because now everyone can store QR code on their phone.
Send Text/Email/SMS
A short text, email or SMS will be sent by the person who scanned the QR code. For instance a tour operator can have a user SMS them ''I would like more information on the 5 day Bali holiday" when a potential customer scans the QR code. The tour operator will then have the senders phone number and their SMS.
Redirect to Paypal Buy Now link
QR code can be redirected to a Paypal 'Buy Now' link for faster transaction without having to type in a lengthy website address and filling out user information.
As you can see from the above, QR codes can have a plethora of uses and is like a barcode on steroids.
Why QR Codes So Popular Among Chinese Customers
China has 1.2 billion people with mobile phones and among these more than 900 million are using WeChat or Weixin (Chinese version WeChat) a popular app that has similar functions to Whatsapp and Facebook. WeChat has a built-in QR code scanner so everytime WeChat is downloaded to a device, a QR code reader is also downloaded. So there are literally more than 900 million QR code scanners floating among Chinese people not accounting those that are living abroad.
Chinese characters are a pain to type
Chinese characters are one of the world's most complex and each character can have many strokes making a chore to type. This is the reason why many Chinese prefer voice messages to text messages and also why QR codes are so popular today.
Hassle free payment
Chinese people don't like debt and before the invention of WeChat and Alipay, cash was the king of payments. Now with the invention of Alipay and WeChat pay, credit cards are being phased out before they even begin to pick up steam. One way this is made possible is with QR codes. The customer simply scans the QR code of the store and pay using the tap of a button on their mobile phone.
How to Scan a QR Code
Aside from the WeChat app, there are many phones that have in-built QR code scanners. In fact, if your phone has a working camera, there's a chance it comes bundled with a QR scanner.
If not, there are a lot of apps on Android and iPhone that has the function to read QR codes with the most popular ones being:
| QR Code Scanner | Platform | Cost | Features |
| --- | --- | --- | --- |
| | Android, iPhone | Free with ads | Supports QR codes, EAN, UPC, ISBN etc. Shares information of a scanned code as a priority rather than viewing its content instantly |
| I-inigma | Android, iPhone, Win | Free | Fast QR code scanner with history log that saves scanned QR codes and their contents. |
| Quick Scan | Android, iPhone | Free | QR scanner excelling in online shopping comparison |
| Row 2 col 1 content | Android, iPhone, Win | Free | Only does QR codes but emphasis on security by informing you of dangerous links scanned |
| Row 2 col 1 content | Android, iPhone, Win | Free | Mobile payment app, total track of receipts, bill splitting |
How to read QR codes with your phone
QR codes are incredibly simple to read once you have a QR code scanner as they can be read 360 degrees. Regardless if your phone is an Android or iPhone, it involves only a few steps:
Step 1:
Download and open the QR code reader app of your choice and use your phone's back camera to focus on the QR code. As long as the QR code is within the scanning area it doesn't matter what angle you scan it even if it's upside down. Let the scanner do it's thing adjusting it as necessary so the QR code fits inside your screen and the scanning area.
Step 2:
Your app should immediately recognise the QR code if positioned correctly.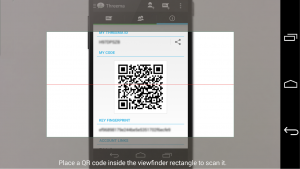 Step 3:
Depending on what the scanned QR code was programmed to do, you may be asked to be taken to an external URL or send through an SMS message. Make sure the message or the URL corresponds to the the QR code content and not a spammy website or link.
Step 4:
Once you are sure the the QR code is what it's supposed to be, accept the request for the external app to open the destination or message.
How to Create QR codes
By now you would have seen that QR codes have many applications and the way you use them is only limited to your imagination. To create a QR code is quite simple:
Step 1:
There are various QR code generators on the Internet that are free. There are paid ones too that offers additional features such as the ability to customise the QR code to suit your branding and advanced tracking and analysing services . Some of the most popular ones are:
www.qr-code-generator.com
www.Goqr.me
https://www.the-qrcode-generator.com/
https://www.qrstuff.com/
Step 2:
Select the type of content you wish your QR code to send your customer to.
Insert the content or URL
Design the QR code with your preferred colour and logo
Download or embed QR code as required
Test out your QR code
Step 3: (Optional)
If you want to do more than just create a QR code you have the option to:
Track and analyse performance of QR code to see conversion rate
Optimisation – Once analysis and tracking are made the process of optimisation can begin by tweaking existing landing page content, message etc…
QR Code Best Practices
QR code connects the offline world to the online world so it only makes sense to place it in the real world where it's convenient for your customers to scan. Below are some of the best practices to using QR codes:
Be Mobile Friendly
Since QR codes can are mostly scanned by mobile devices, it is imperative that your content and landing URL be mobile friendly.
Be Safe to Scan
QR code scanned by a mobile phone must be from a safe environment so as much as you want to place a QR code on the back of a car or truck, maybe it's better to put a website URL instead.
Have a clear Value Proposition and Call to Action
QR code requires the user to take out their phones and scan it which can be a bit of a chore so entice them with a good value proposition such as a discount or promotion.
What steps should the scanner do next after scanning the QR code. Is it to entice them to visit a physical store with a promotion. Is it to entice users to sign up to a newsletter with a discount code?
Fight Boredom
People play with their phones when bored so anywhere where people are waiting to get served such as waiting rooms or lines can be a good spot.
Be Relevant
Is your QR code destination or landing page relevant to the customer?  Highly relevant QR code converts more.
Be Accessible and Convenient

Where you place the QR code is just as important as what's on the QR code. Avoid putting on places that are too high or too low, around bends or near cut off points where it's difficult for users to scan. Also consider surfaces that might be obscured or that might be moving as it's difficult for the QR code scanner to scan a moving target.
Good Examples
QR code placed on tea tags
It follows the best practices of fighting boredom and safe to scan. When people are drinking tea they will most likely be in a place where they are sitting down. Chinese people in particular love to drink tea.
On price labels of food or fruits
Is there an interesting backstory on where the food was sourced or manufactured? Customers are always interested to know the backstory and nutritional value of a food product they love.
On Magazines
People read magazines for enjoyment when  they have some free time so they are most likely to scan QR codes that are of interest to them. What's more QR code fixes the limited spaces on a magazine.
On Brochure, Pamphlets and other promotional material
On promotional real world items QR codes can be used to redirect back to your own website for repeated visits and purchases. However, make sure the QR code is on an even flat surface so avoid material that are uneven or too small such as pens or pencils.
Near tourist attractions
People visit tourist attractions to want to learn more about it.  QR code can be used in place of expensive brochures and pamphlets. A QR code containing a map is helpful and gets your customers to visit you online.
Inside Escalators
Inside escalators can be a good place to place QR codes when people are waiting to get off on their floor.
Conclusion
QR code usage are a necessity and a way of life for Chinese people nowadays. With over 900 million people (excluding those that are living broad) having QR code scanners that are bundled with their favourite social media app of choice WeChat we can see why. In order to get Chinese people to notice your products or services, it is imperative businesses pay special attention to where their customers like to hang out and how they interact with the world around them. In this instance QR codes are here to stay.
And while you're here we might as well treat ourselves to some weird and creative ways to use QR codes!